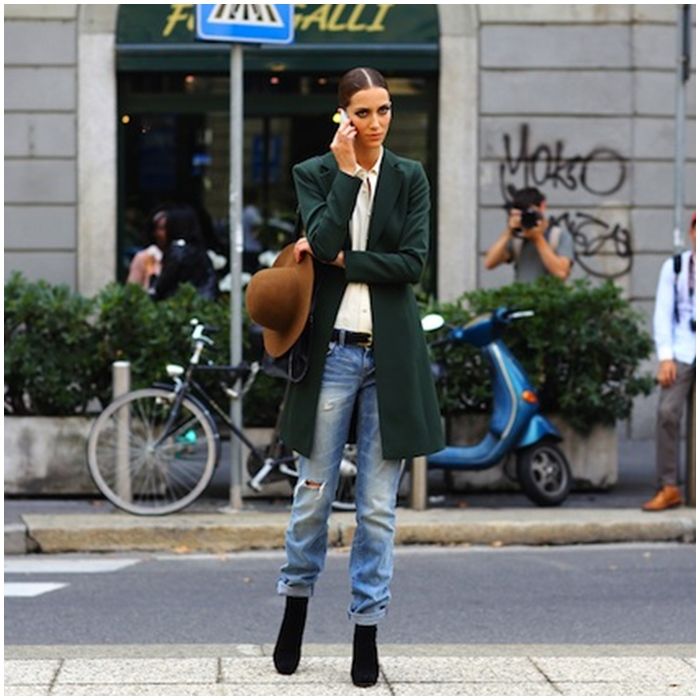 Los pantalones BOYFRIEND, llegaron hace un par de años y de mi armario no han salido. Este año vuelven con fuerza y son muchas las que se apuntan a esta tendencia.
Llamados boyfriend porque son pantalones vaqueros grandes, no muy femeninos y que inicialmente se llevaban cogidos directamente del armario de nuestros novios, ahora raro es no encontrar un par de estos pantalones en el armario de una de nosotras.
No son los pantalones más favorecedores, no marcan nada pero a mí me parecen los pantalones más cómodos que tengo. Los míos son de berska y no he encontrado ningunos que les hagan frente a lo largo de estos años. Este año como decía vuelven con fuerza y algunas de vosotras me habéis escrito para pedirme una pequeña selección de street style boyfriend.
Mi opción ganadora es sin duda combinarlos con

prendas

muy femeninos, unos buenos tacones que estilicen nuestra figura y una camiseta o camisa pueden ser el toque perfecto para pasar de un estilismo que no nos convence a dar el si a este estilismo. Animaros con ellos y ya veréis como caéis rendidas a sus pies.
Yo les combino de varias formas, porque también los llevo con playeras o bailarinas cuando quiero ir lo más cómoda posible o tengo un día de carreras y de no parar. Aunque reconozco que en este caso muy favorecida no es que me vea. Así que apostar por mezclar y combinarlos con aquellas prendas que tenéis en el armario más femeninas que seguro que os acaba gustando.
Hoy tengo un Workshop de lo más especial de la mano de Pandora y Moises Nieto, os iré contando todo por twitter y instagram, si no queréis perderos nada seguirme @StasPrincesas #DiseñajoyasPandora
Muchas gracias por vuestros comentarios y por pasaros por aquí
Today I show you a selection of street style of boyfriend jeans. It trend comeback this summer. The perfect combination is mix these jeans with female clothes and heels. Have a good day.
Sígueme en // Follow me :